Tripal is a suite of PHP5 modules that bridges the Drupal Content Management System (CMS) and GMOD Chado. The goal is to simplify construction of a community genomics, genetics or biological website to enable individual labs or research communities to construct a high-quality, standards-based website for data sharing and collaboration.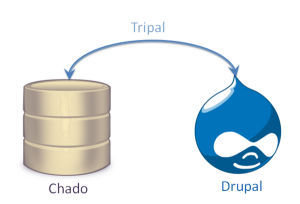 Content Management System
Definition From Wikipedia:
A content management system (CMS) is the collection of procedures used to manage work flow in a collaborative environment. These procedures can be manual or computer-based. The procedures are designed to do the following:
Allow for a large number of people to contribute to and share stored data
Control access to data, based on user roles (defining which information users or user groups can view, edit, publish, etc.)
Aid in easy storage and retrieval of data
Reduce repetitive duplicate input
Improve the ease of report writing
Improve communication between users
In a CMS, data can be defined as nearly anything: documents, movies, pictures, phone numbers, scientific data, and so forth. CMSs are frequently used for storing, controlling, revising, semantically enriching, and publishing documentation. Serving as a central repository, the CMS increases the version level of new updates to an already existing file. Version control is one of the primary advantages of a CMS.
Drupal
Drupal is an open-source freely available CMS with thousands of users and existing sites. Features of Drupal
A well-supporting community.
Books, tutorials and on-line forums for help .
Hundreds of user-contributed extension modules that are freely available.
Hundreds of user-contributed themes to instantly change the look-and-feel of the site
User management infrastructure.
Allows for non-coding manipulation of the website contents. Anyone can edit content.
Easy to install and maintain
Drupal website: http://www.drupal.org Drupal modules: http://www.drupal.org/project/modules Drupal themes: http://www.drupal.org/project/themes
Tripal v2.0 is compatible with Drupal v7.
Chado
You can find more detailed information about Chado here: http://gmod.org/wiki/Chado_-_Getting_Started. However, one thing to remember in regards to Tripal organization is that Chado has a modular structure:
Audit - for database audits
Companalysis - for data from computational analysis
Contact - for people, groups, and organizations
Controlled Vocabulary (cv) - for controlled vocabularies and ontologies
Expression - for summaries of RNA and protein expresssion
General - for identifiers
Genetic - for genetic data and genotypes
Library - for descriptions of molecular libraries
Mage - for microarray data
Map - for maps without sequence
Organism - for taxonomic data
Phenotype - for phenotypic data
Phylogeny - for organisms and phylogenetic trees
Publication (pub) - for publications and references
Sequence - for sequences and sequence features
Stock - for specimens and biological collections
WWW -
Tripal is also modular following these same designations.
Goals of Tripal
Simplify Construction of Biological Databases

Reduce time of development
Reduce costs
Reduce technical resources (i.e. programmers, systems admins).
A non-technical site administrator can add content without knowing PHP, HTML, JavaScript.
Greater Flexibility of the Biological Website

Social Networking
Non-biological content
Outreach, tutorials, documentation, protocols, publications
Expandability

Site can be programmatically expanded in any way
Changes to base-code are not needed but modules are added.
Availability of an Application Programmer Interface (API)
Re-usability

All code can be shared. Expansion modules created by one group can be shared with all.
Structure of Tripal
Tripal is a collection of modules that integrate with Drupal. These modules are divided into hierarchical categories: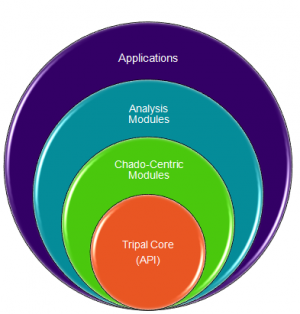 The Tripal Core level contains supportive functionality for all other modules. It contains
A jobs management utility
A utility to manage materialized views
An API for these features
Functions for managing module specific CV terms
Functions for interfacing with Chado.
The Chado-centric modules provide:
Edit/Update/Delete for Chado modules.
Bulk loaders for these data
Basic visualizations for data in Chado specific for the module
An API for easily accessing Chado.
Analysis modules provide
Custom visualization for specific analyses (e.g. Blast, KEGG, InterProScan, Unigene construction)
Uses the API from the Tripal Analysis (Chado-centric) module.
Applications:
These are full blown applications that use Tripal, Drupal and Chado and typically consist of several Chado-centric modules, Analysis modules and custom built modules. (e.g. Breeders Toolbox currently under construction).
Sites Running Tripal
Resources
The Tripal home site where you can find everything about Tripal: http://tripal.info
GMOD Tripal mailing lists: http://gmod.org/wiki/GMOD_Mailing_Lists
GMOD Tutorials from previous GMOD schools: http://gmod.org/wiki/Tripal
Contributing Organizations
Individuals from these organizations have provided design and coding for Tripal v2.0


Acknowledgments are extended to the Clemson University Genomics Institute where Tripal was first conceived and where development of earlier releases was performed.
Also, special thanks are extended to the GMOD project for logistical support and community interaction!!
Funding
Funding for Tripal v2.0 has been provided through various grants from various sources.
Publications
Lacey-Anne Sanderson, Stephen. P. Ficklin, Chun-Huai Cheng, Sook Jung, Frank A. Feltus, Kirstin E. Bett, Dorrie Main. Tripal v1.1: a Standards-based Platform for Construction of Online Genetic and Genomic Databases. Databases, Sept 2013.
Stephen P. Ficklin, Lacey-Anne Sanderson, Chun-Huai Cheng, Margaret Staton, Taein Lee, Il-Hyung Cho, Sook Jung, Kirstin E Bett, Dorrie Main. Tripal: a construction Toolkit for Online Genome Databases. Database, Sept 2011.