Submitted by laceysanderson on

 

Perspective: Often in more applied genetics we want to determine how individuals differ on a genotypic level. This is often done through generation of targetted assays meant to determine the sequence at a particular loci. These assays are known as markers and are performed on multiple individuals of interest to give an idea of the variation within a species. Thus the data we are trying to display/disseminate in this case are multiple short sequences (often a single nucleotide) for a single loci where each sequence is associated with the genetic stock (ie: a DNA extraction of a particular individual of a species) it is found in.
Data Storage in Chado: There is a Tripal Bulk Loading Template available here that provides a means of loading germplasm by marker  genotype matrices (Sample data and full documentation provided).
Functionality in Core Tripal
Assuming the above method of storing genotypes, in order to display genotypes in Tripal you want to enable both "Tripal Genetic" and "Tripal Natural Diversity". This will add a listing of genotypes to both markers (chado features) and genetic stock (chado stocks) pages, which is shown below in the first and second screenshot respectively.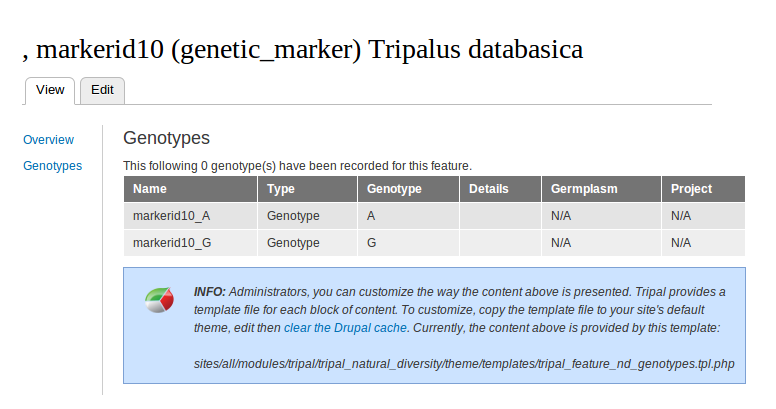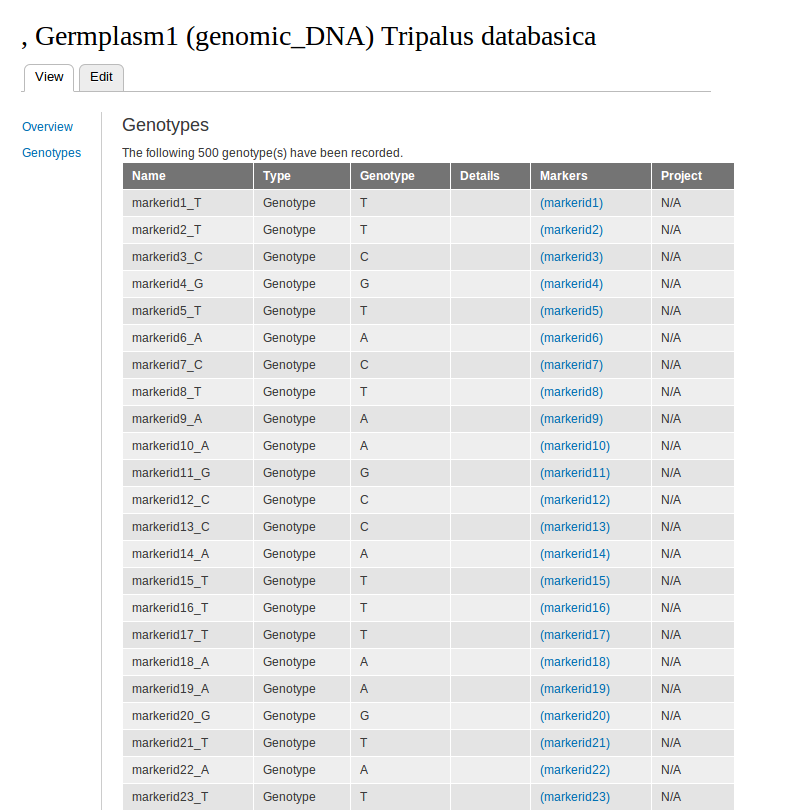 Extension Module provided Functionality
ND Genotypes Module
Developed by Univ. of Saskatchewan, Canada Group including Lacey Sanderson & Kirstin Bett.
This module was developed with use of genotypes in a breeding setting but was designed to be as widely applicable as possible. It provides a number of custom forms and views functionality to allow for more advanced viewing of genotypes. For example, this module provides the ability to create marker by germplasm matrices displaying only the genotypes of a user-selected set of germplasm. Since this germplasm set is choosen by the user through manipulation of the views filters, each user can choose the germplasm they are interested in at the moment. For an example of this functionality, go to the KnowPulse Lentil Genotype Listing. This tool requires the exact unique name of the DNA stock although development is underway to remove this restriction. In the mean time, some examples to try on KnowPulse include 'CDC Redberry Extraction', '964a-46 Extraction' and 'L01-827A Extraction'. This module is still under active development but is available for public use by contacting Lacey Sanderson at lacey.sanderson at usask.ca.